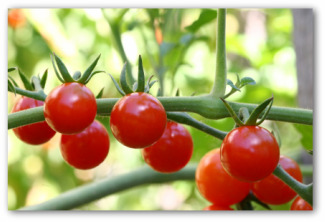 Sorry no picture of the soup, but this soup is worth the post, picture or not!!!
This recipe was given to me by my sister in law, thanks so much Alyce, it is definitely a keeper!!! This soup is perfect for those cold days that are coming our way. Roasting the tomatoes gives it a whole new flavor that is incredible, and the basil just makes it even better. The thing that I loved most about this soup is that I was able to use up all of the tomatoes from my garden. I made a double batch and froze half of it to use on a day when I don't have time to make dinner.
Notes while making the soup:
When I was making the soup I didn't have time to let it cook for 40 more minutes, so I blended it right after I added the tomatoes, and then simmered it while we where eating. I also think to make this soup a little less rich you could add 1 T of butter and olive oil instead of 2.
3 lbs tomatoes
1/4 C olive oil--(this part I didn't measure I just tossed the tomatoes in olive oil)
1 T kosher salt-- (this part I didn't measure either again I just salted and peppered the tomatoes)
1 1/2 teaspoon ground black pepper " "
2 cups chopped yellow onion
6 garlic cloves
2 T butter (you could use more olive oil if you like) ( I think you could easily do 1 T of olive oil and butter)
2T olive oil
1/4 tsp red pepper
1 28 oz can of tomatoes with juice
4 C fresh basil ( I only had two)
1 tsp fresh thyme
1 qt chicken stock (vegetable stock would work as well)
1. Preheat the oven to 400 degrees.
2. Toss the tomatoes in the olive oil, salt, and pepper.
3. Spread on a cookie sheet in one layer not overlapping and roast for 45 minutes.
4. While the tomatoes are roasting, add 2 T olive oil, and the butter to a large stock pot.
5. Melt the butter over medium heat.
6. Once the butter is melted add the onions, garlic, and red pepper to the pot, cook until the onions turn a light brown.
7. Add the canned tomatoes, basil, thyme, and chicken stock.
8. Add the oven roasted tomatoes including the juices on the cookie sheet.
9. Bring to a boil and simmer for 40 minutes.
10. When it is done cooking, blend in batches so that the soup is still chunky but more smooth. I just pulsed mine in the blender instead of blending it all the way.
11. Season to taste, and ENJOY..
This soup freezes well, so as long as you are going to spend the time making it, it makes sense to double it and freeze some for later.